Con Colbert - Dedicated Republican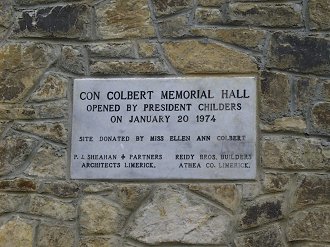 Cornelius "Con" Colbert was born in Athea in Co. Limerick in 1888. He was educated in North Richmond Street's Christian Brothers' School as was his comrade-in-arms
Sean Heuston
. Fresh out of schooling, he got a job at Kennedy's Bakery in Parnell Street and involved himself with
Na Fianna Eireann
, (National Scout Movement), an organisation so close to his heart that he spent all of his spare time cycling all over the countryside of Leinster trying to recruit people to start new sluaghs all across the province.
Con joined the
Irish Volunteers
shortly after their founding and was one of the organisations first drill instructors. He was quickly appointed the captain of F Company in the 4th Battalion, a position he held until the rising.
Despite his youth, he was an inspiration to his peers and his superiors, and was appointed to Volunteers Headquarters staff in 1915. In the years before 1916 he devoted his time to organising the men and boys who were to eventually participate in this historic event. His salary was paltry but he did not seem to mind and spent almost every spare penny on the furtherance of the movement.
Based on Colbert's reputation and having seen him at work, Padraig Pearse asked him to become a drill instructor at
St. Enda's
, where Pearse was headmaster. In spite of his growing commitments with NFE and the Volunteers, he agreed. When it was suggested that he be put on the payroll Con declined the pay and Pearse apologised and was forced to forget the idea.
In the week before
the rising
Colbert was sure he was going to die but he also knew it would not be in vain. He understood the concept of the "blood sacrifice" and the power of the martyr, and he was grateful for the opportunity to play his part. He was recognised as a man of high esteem to such an extreme that the British soldier who was ordered to restrain him for execution asked for the privilege of shaking his hand.
On the 8th of May 1916 Volunteer Captain Cornelius Colbert was executed by firing squad in Kilmainham Gaol for his part in the Easter Rising. Also executed with him that day were his comrades
Eamonn Ceannt
,
Michael Mallin
and Sean Heuston.